Read Time:
1 Minute, 24 Second
[ad_1]

By Anna Jordan on Small Business UK – Advice and Ideas for UK Small Businesses and SMEs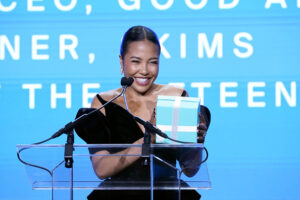 British entrepreneur, Emma Grede, lives in Los Angeles but was brought up in East London. She worked in entertainment marketing at Inca Productions and later founded fashion and entertainment marketing agency, ITB Worldwide.
State-side, she co-founded Good American in 2016, a company selling inclusive denimwear and other garments, with business partner Khloe Kardashian. Three years after that, she co-founded inclusive underwear brand, SKIMS, alongside Kim Kardashian. To top it off, she is a founding partner in plant-based cleaning brand, Safely, with Kris Jenner and Chrissy Teigen. Outside of entrepreneurship, she is board chair at 15 Percent Pledge, where major retailers pledge to give 15 per cent of shelf space to black-owned businesses, plus a board member of Baby2Baby, providing clothes to children.
Like Peter Jones, Grede is a recurring Shark on Shark Tank, and the show's first black female Shark.
When news broke over her appearance on Dragons' Den, Grede said: "I'm no stranger to the boardroom. I'm surrounded by strong women, and I champion those who are independent and have an idea that I can help develop and grow.
"I watched Dragons' Den growing up, and being able to come back to the UK as a Dragon to share my own experience with the budding entrepreneurs entering the Den is very exciting.
"I am looking for people who are passionate, not afraid to think big and know their product, and their audience."
The post Emma Grede appeared first on Small Business UK.
[ad_2]

Source link